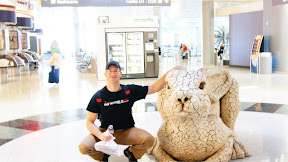 Of all the cool things and places in Vegas I only managed to snap a pic with this cracked ole rabbit!
Many of you already know that Kalli and I run our business remotely using talent and manpower from all over the world, which allows us freedom but we don't have much of an "office culture".
Several times a year ClickBank throws us some of the coolest parties ever in some of the most upscale venues in the world. Our friends and fellow ClickBank vendors have become our "office culture" in many ways, and help us to stay motivated and inspired.
It's fun to be spoiled!
This year ClickBank hosted an amazing bash at the Tao on the las Vegas strip. Great food, inspiring company, and the club was a breathtaking backdrop to the experience. I should have taken pics!
If anyone who reads this has some pics of the party please link up in comments.
So instead of some amazing pics of the club he is an anticlimactic photo with this neat lil rabbit in my ClickBank tee at las Vegas airport.
We're now India and it's great to be back here. Hope to have some better pictures soon!
* Please excuse my brevity, this post is from our Iphone.
Location:Las Vegas